SUNFISH SAILBOAT
$3930.00
>Select Hull Color
>Select Sail
>Select Optional Cover
>Select Optional Dolly
>Select Optional Hoister
---
$
3930
>Select Delivery Option
Step One - Choose your sail:

Green-White

Mackinaw

Red-White

White Race

60th Anniv. Red

Vineyard (Sea Breeze)

Traverse (Mojito)

Olympic IV (Colada)

Coral (Mai Tai)
---

Step Two - Choose your hull color:
Red Stripe

Green Stripe

Blue Stripe

Yellow Stripe

---
Step Three - Optional Accessories:
Add a light weight dolly for easy beach launches:
(Dolly image is an example only, actual dolly may look different)
No Dolly
Dolly with standard wheels (hard terrain) + $504
Dolly wide wheels (soft or rugged terrain) + $695.00
Keep your new Sunfish in great shape with a custom fitted brand cover:
No Cover
Mast down cover + $270.00
Mast up cover + $320.00
Easily lift and store your boat overhead using a Harken Hoister system:
No Hoister
200lb load, 8' lift + $158.60
200lb load, 12' lift + $167.15
---
Step Four - Select your shipping method:
Pick up at our facility (Clay Township, MI, USA)
Delivered to your door (*See important note lower left)
---
Add To Cart - Click the cart button above.
&nbsp
Step One: Select your sail from
the options on the right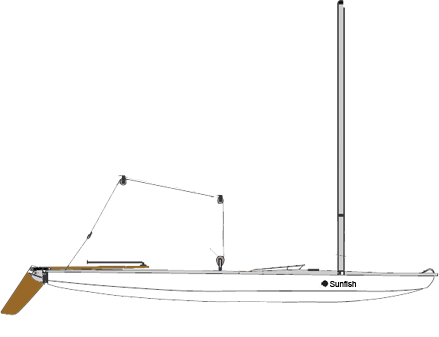 Step Two:
Select a hull color from the options at the right:

Step Three:
Select optional accessories from the options at the right:
Step Four:
Select delivery options at the right:
* Important Shipping Information: Your Sunfish will come custom packaged in a box designed keep the boat safe in transit. Because the Sunfish sailboat is oversized for most transportation companies we currently quote the delivery of each Sunfish on an individual basis. Please inform us if you would like an exact quote before shipping. Once you place your order we will contact you to give you details about delivery time. Shipping costs WILL exceed the shipping amount shown in your cart and your order confirmation. Because of the oversized nature of this product customer is fully responsible for any shipping costs related to returns as well as a restocking/packaging fee if the customer chooses not to keep boat.